Geiger Places 9th on ASI Top 40 Promotional Product Distributor List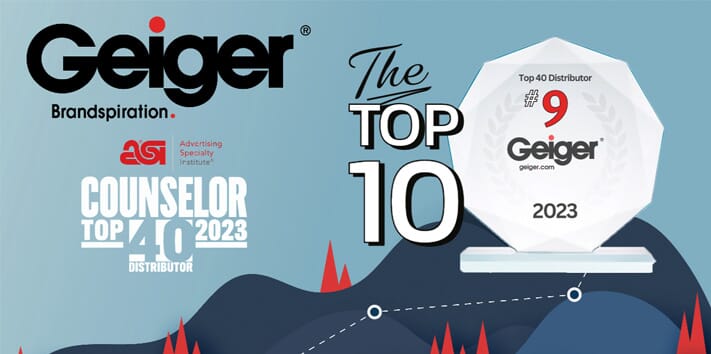 August 29, 2023 – Lewiston, ME – Geiger, the world's largest privately held and family-owned promotional products distributor, has been named #9 in the 2023 ASI Counselor Top 40 Distributors list. The list, published by the Advertising Specialty Institute (ASI), ranks the top promotional product distributors and suppliers based on annual sales.
"We are so proud to be named #9 on the 2023 Top 40 ASI Distributors list," said Jo-an Lantz, President & CEO of Geiger. "This award reflects the hard work, creativity, and dedication our sales team and associates put forward every day." Geiger has appeared in the top 10 on the ASI Distributor list every year since the list's inception more than four decades ago. The Advertising Specialty Institute serves a network of 25,000 suppliers, distributors, and decorators in the promotional products industry.
"We are committed to providing our customers with the best possible service and support – that work is reflected in our 34% growth in 2022," Lantz continued.
Founded in 1878, Geiger is a world-leading distributor of branded merchandise and branded apparel with a global footprint. The company recently closed its fifth UK-based acquisition in July and highlights a continued commitment to environmental stewardship.
ABOUT GEIGER
Geiger is the largest privately held and family-owned promotional products distributor in the world. A fifth-generation business headquartered in Lewiston, Maine, Geiger operates from offices throughout the U.S. and Europe and is affiliated with more than 450 independent sales representatives. Geiger is a socially and environmentally conscientious company, providing proactive, comprehensive marketing solutions to their clients.
ABOUT ASI
The Advertising Specialty Institute (ASI®; asicentral.com) serves a network of 25,000 suppliers, distributors and decorators in the $25.8 billion promotional products industry. ASI's flagship product, the technology platform ESP®, manages the industry's entire supply and marketing chain. ASI also produces award-winning digital content, live events and educational programs that enable companies in 53 countries to be more efficient, productive and profitable. ASI's media and research operation provides the most authoritative business content in the industry, and the ASI Certification Program features 200+ live and online education courses for industry professionals. The company, family-owned and -operated since 1962, is proud to have been consistently ranked among the "Best Places to Work" in Philadelphia and Bucks County, PA.
MEDIA CONTACT
Stephanie Whitman | Geiger
Vice President of Marketing
70 Mt. Hope Ave • Lewiston • Maine • 04240
207.755.2372 E: swhitman@geiger.com
geiger.com